---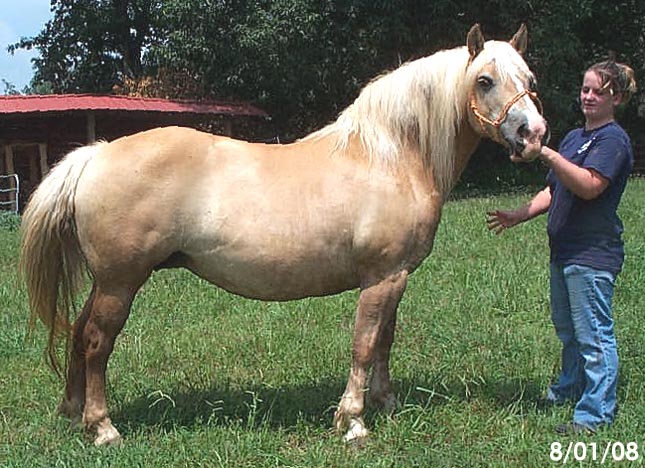 PARTY DOLL RWF

Very attractive sturdy mare with good blaze. Has been a pet and broodmare, never asked to work so far, but quiet, gentle, and easy to handle. Registered with AHR and HBO. Led, haltered, tied, and handled regularly.


---
---
Pedigree for Party Doll
DOB 03-21-95
Sire
Nauder (IMP)
Sire
Nerv
Sire
Niger
Sire Stauder
Dam Ultra
Dam
Edle
Sire Zanzi
Dam Klaudia
Dam
Mariel
Sire
Martin
Sire Santer
Dam Ulm E
Dam
Mona
Sire Nelson
Dam Zirpe
Dam
Pumpkin II
Sire
Alpen Konig

Sire
Antrieb
Sire Adler
Dam Marmolada
Dam
Amira
Sire Stift
Dam Amanda
Dam
Pumpernickel
Sire
Starwonder
Sire Stern
Dam Arabella
Dam
Pult
Sire Mikado
Dam Paula-Lutz
---
Please note. We are a small family farm and cannot entertain the expense of sending out videos on our Haflingers for sale, which are usually not returned. If we communicate and you have serious interest in one or more of our Haflingers and need to see a video, you can send $5 to cover the cost of the tape and mailing, let us know what you would like to have filmed, and we will do our best to tape enough information to help you make a decision.
---
Return to Southeastern Haflinger Page