---
HAFLINGER SADDLES

We only have a few Abetta saddles left in stock - we are no longer dealing with the saddlemakers.

---
---
---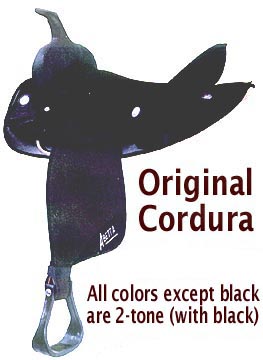 Here's a Great Idea! This Abetta saddle seems to fit our Haflingers to perfection! These saddles are lightweight, less expensive, and easy maintenance.
TREE: Abetta All-Around by Ralide; Gullet is 6-1/2".
CANTLE: 4" highback.
HORN: 3-1/4" Leather covered.
RIGGING: 7/8 Nylon/leather halfbreed with SS dees
STIRRUPS: 2" Bell
SEAT: Synthetic - Acu-suede 20501 (comfortable, snug, strong - our favorite) .
FINISH: Scratch resistant, easily-washable Cordura nylon over shock-absorbing foam.
TRIM: Engraved Silver conchos.
COLORS: Black (BK) only.
WEIGHT: 17 pounds.
Seat sizes 15" and 16" - $360.00 to $370.00.
Add 5/8" wide Cordura nylon bridle, 3" wide Neoprene breast collar in matching trim - $64.00
PRICES SUBJECT TO CHANGE - WE WILL CONTACT YOU IF THERE IS A CHANGE PRIOR TO PROCESSING ANY ORDERS.

Click here to see the saddle on Haflingers
---
---
These prices are substantially below list. Actual shipping will be charged - you will be notified of that cost before proceeding.

CONTACT WEBMASTER IF YOU ARE INTERESTED IN PURCHASE or go to www.horsies.com and use the order form there. AT PRESENT, THESE SADDLES ARE IN STOCK AND CAN SHIP QUICKLY.