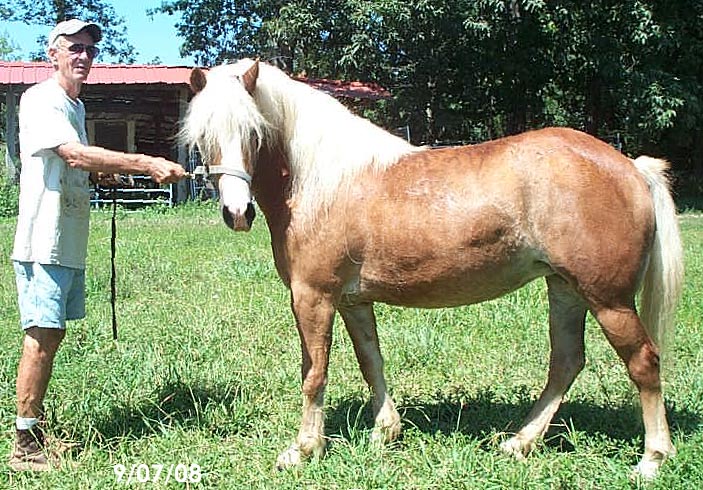 SMOOCH FOLK

Smooch was born May 8, 2002 - if we were left with only one Haflinger, this would be the one we'd pick. Smooch has a nice blaze and a lot of potential, great movement. She is very friendly and cooperative and relates well to people. Mom and Dad are nice-sized Haflingers of the more modern type. AHR Registered. Imprinted at birth and led, haltered, and handled daily. Good sized - man in picture is 6'1".
$3000.
---
Sire and Dam

Sire:56"/850# Dam:55"/750#
---
Pedigree for Smooch Folk
DOB 05-08-02
Sire
Megabyte Folk
Sire
Michi Wulf
Sire
Mistral
Sire Midas
Dam Norbsi
Dam
Nancy
Sire Strumer
Dam Nirane
Dam
Quinsetta
Sire
Stacey Supreme
Sire Stacey
Dam Melanie
Dam
Quinstella
Sire Sir Baron
Dam Quinella Flossy
Dam
Sissy Bell VVH
Sire
Wilhelm
Sire
Weisheit
Sire Wandor
Dam Cincinnati
Dam
Aimee
Sire Maestro
Dam Anemone
Dam
Suzanna Von Nickelkopf
Sire
Niklus
Sire Nicky
Dam Cindora
Dam
Semmele Von Nibelungen
Sire Nasor-Libby
Dam Selma Heidi
---
Please note. We are a small family farm and cannot entertain the expense of sending out videos on our Haflingers for sale, which are usually not returned. If we communicate and you have serious interest in one or more of our Haflingers and need to see a video, you can send $5 to cover the cost of the tape and mailing, let us know what you would like to have filmed, and we will do our best to tape enough information to help you make a decision.
---
Return to Southeastern Haflinger Page